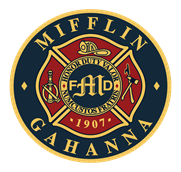 International Association of Firefighters Local 2818, the Mifflin Township Professional Firefighters Association, represents the career firefighters, paramedics, dispatchers, and fire prevention officers of the Mifflin Township Division of Fire in Gahanna, Ohio. Founded with 8 members in 1983, our current membership is approximately 80 members, representing all stations and bureaus in the fire division.
The members of the emergency services and fire prevention bureaus provide fire suppression, technical rescue, advanced medical life support, fire investigatory and prevention education services to the residents and visitors of Gahanna and Mifflin Township. Through automatic aid agreements with our contiguous jurisdictions, the closest appropriate emergency apparatus is sent.
The members of the fire alarm office provide emergency fire and emergency medical communications service to Mifflin Township and Gahanna, as well as Plain, Truro, Jefferson and Violet Townships, and the City of Whitehall. All members assigned to the fire alarm office are qualified and trained to provide pre-arrival medical and fire direction as emergency apparatus are responding.
Through our association with the Ohio Association of Professional Firefighters and the International Association of Firefighters, Local 2818 provides a voice for our members to provide input and work with division leadership and our elected officials on giving our members the ability to provide the best possible service during times of crisis while providing a platform to give back to the communities we serve through public service and civic activities.